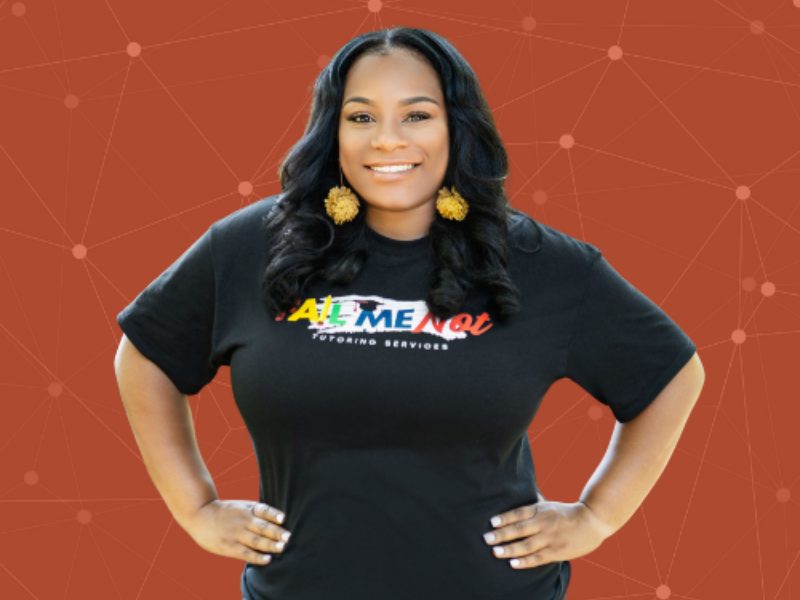 By Katie Aldridge
What would I want in a tutoring service for my own child?
This is the driving question founder Michel'le Curington considers as she manages Fail Me Not Tutoring, a tutoring program that services students in grades K-8 in math, reading, and writing in the Dayton area.
Michel'le is a graduate of Early Risers Academy, a 10-week business-building bootcamp powered by Launch Dayton partner Parallax Advanced Research. We recently caught up with Michel'le to learn more about Fail Me Not Tutoring and her Academy experience.
Launch Dayton: How did your company start?
Michel'le: One day, I was at home praying that I would find a job that allowed me to serve my purpose. I closed my eyes and the word tutoring flashed across my head. I tutored for several years as a hobby. In 2019, I applied to get my LLC to become an actual business.
I built my brand mostly through word-of-mouth. A lot of students' parents saw great results and growth in their children academically, and we got a lot of positive reports from teachers as well. That is how my business grew.
Why this idea?
I had already received my bachelor's degree in education. I was in the middle of graduate school, and it was recommended that graduate students don't have a job. I was doing school full time, but I needed extra income. I was getting my master's in education, so it just made sense.
Did you always want to be an entrepreneur?
No, I hadn't thought about it. I always saw myself working as a teacher. The idea hadn't crossed my mind until I was sitting in my living room that day and had the idea. It was like a light bulb went off in my head. It was going to allow me to serve my purpose, and it is in the field I am in. It made perfect sense.
What identities do you bring to entrepreneurship that helped prepare you for this lifestyle?
I am very determined. When it comes to entrepreneurship, I am determined in making sure that I am running my business with complete authenticity. I am determined to run my business as if I am on the receiving end; I run my business as if I am a parent. I am a thinker, so I always think things through and plan things out.
What is the biggest barrier you've faced in entrepreneurship?
Training my staff properly so they know how to run my business. My goal is for my business to run so smoothly that no one is able to identify the owner of Fail Me Not Tutoring. I always say I want it to run like Chick-Fil-A!
Why do you love what do you?
I was a kid that didn't understand things in school. I really struggled. I valued those teachers who took the time to help me and tutor me before and after school. I valued those students in the Sinclair and Wright State writing labs and math labs who spent the time to work with me to develop my skills. I want to give back that feeling and energy that those teachers gave and invested in me.
How was your Early Risers Academy experience?
It was amazing! I met so many different people with so many different businesses – businesses that I didn't even think would exist. It was really cool to learn about the different types of businesses and ideas that people have. I really valued and appreciated that from Early Risers Academy. I was also grateful to meet established entrepreneurs to give us feedback because they have been through it; their advice was extremely helpful.
How can the Launch Dayton community support you?
We are in need of some things, so if anyone has any resources where we can get some laptops that would be great. I am also looking to add STEM activities and courses into my program. If anyone in the STEM field has knowledge about activities or courses that we can offer to students in the Dayton community, that would be greatly appreciated. The students of Fail Me Not Tutoring are a product of Dayton. Any resources that help me also help push the students forward and would be greatly appreciated.

Our entrepreneur and small business coverage is powered by Launch Dayton, an organization that seeks to connect entrepreneurs to peers, resources and supporters while telling the story of the region's thriving entrepreneurial community.
User Reviews
---
More News / Blog